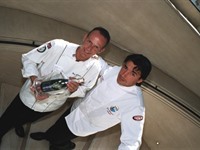 A Little Bit of Trelawne News
A little bit of Trelawne News
Wow, what a year it has been at Trelawne.
We have been extremely busy this year and we are delighted that the season continued until late November. We had record occupancy levels, with May-October averaging at 96%!
As many of you will already know we have had a change of chef this year, for the fi rst time in 9 years. Though we had a diffi cult time during this transition until June, being badly let down, we are absolutely delighted with the end result.
David Waplington joined us at the end of June and the reception couldn't have been better. David is a local chef, coming from Halvasso and has worked, as Head Chef, over his 35 year career in many 4 Star 2 Rosetted Hotels and Restaurants in the locality. David has an exhaustive list of awards and accolades, which we are now proudly displaying in our restaurant. The cuisine has taken a more exciting route, with the same structure of a daily change, as we know, you don't want to know what is on the menu, before you have even looked that day!
Your response to this change has been amazing. We have never had so many compliments, rave reviews about the food and most of all repeat bookings.