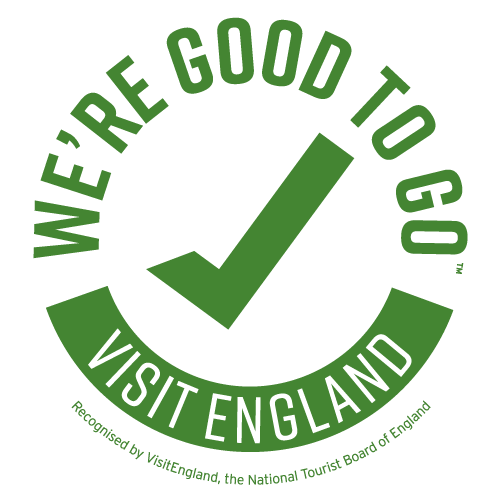 WE ARE CLOSED IN ACCORDANCE WITH GOVERNMENT INSTRUCTION
MAY WE REMIND ALL TRAVELLERS THAT GOVERNMENT ADVICE IS THAT CITIZENS MUST NOT TRAVEL OUT OF HIGHER TIER AREAS FOR HOLIDAYS TO THOSE IN A LOWER TIER. WE WISH TO PROTECT OUR LOCAL COMMUNITY AND STAFF AND WOULD ASK YOU NOT TO BOOK WITH US AT PRESENT IF YOU RESIDE IN A HIGH RISK AREA.
We have been busy preparing the hotel for these changes and have implemented the following procedures in line with Government Guidelines and have been accredited by Visit England with the 'We're Good To Go' award for your peace of mind that we have all of the procedures in place to keep us all safe and enjoy a well earned holiday!
1. Strict requirement to wash hands prior to entry to the building. The handwash facilities are to the right of the reception entrance. Please make sure warm water and soap are used in line with the guidance for AT LEAST 20 SECONDS. Use the sanitisers throughout the building, especially after touching surface such as hand rails and door knobs.
2. Signage and markings to remind customers of social distancing requirements and sanitizing of hands.
3. Sanitizers available at multiple points throughout the hotel.
4. Increased availability of outdoor seating.
5. Doors to be propped open at all times where possible, to decrease touch and increase ventilation.